A new 4,000 Sq Ft single-story, slab-on-grade rural medical clinic with universal design features to aid accessibility and patient service.
500 Sq Ft renovation, including addition of a compound preparation area, custodial closet, an ISO class 7 clean room with ISO class 7 anteroom and hazardous drug storage, and an independent ISO class 7 clean room with adjacent ISO class 8 ante-room. Construction was phased to minimize business disruption for the pharmacy.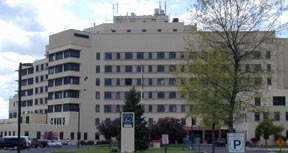 Indefinite delivery/indefinite quantity contract at the Mann-Grandstaff VA Medical Center. Completed 11+ projects, including replacements of mechanical and fire sprinkler systems, multiple clinical/patient treatment areas, and various office spaces.
Cortner Architectural Company completed 16 projects while serving as Campus Architect for Lakeland Village (LV) and Eastern State Hospital (ESH) during the 2015-2017 biennium. Projects included Predesigns, Electrical and Fire Alarm Infrastructure Upgrades, Elevator Assessments and Repairs, and Roofing projects.