Renovated for teaching flexibility, the engineering, technical, and robotics classrooms are filled with state-of-the-art equipment. The upgrades to the dual purpose (chemistry and biology) science classroom and lab maximizes the uses for the space, including improved teacher prep areas and a new teaching fume hood.
Multi-phase renovation of an elementary school building originally built in 1958. Broken into 13 bid packages, the project included asbestos abatement, selective demolition, interior finish upgrades, security upgrades, roofing upgrades and exterior remodeling, all while meeting a compressed project schedule.
A 3,700 Sq Ft addition and 7,250 Sq Ft renovation of the existing building to accommodate expanding research facilities, classrooms and offices. Design challenge: attachment of the addition to the existing structure with different depths of structural elements, including SIP panels.
Interior and exterior building improvements (over 7,500 Sq Ft renovation area), including reconfiguration of locker rooms, weight room, dance studio, offices and classrooms. Extensive repairs to stadium steps, walls, canopies and signage.
A new 4,000 Sq Ft single-story, slab-on-grade rural medical clinic with universal design features to aid accessibility and patient service.
500 Sq Ft renovation, including addition of a compound preparation area, custodial closet, an ISO class 7 clean room with ISO class 7 anteroom and hazardous drug storage, and an independent ISO class 7 clean room with adjacent ISO class 8 ante-room. Construction was phased to minimize business disruption for the pharmacy.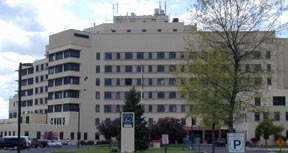 Indefinite delivery/indefinite quantity contract at the Mann-Grandstaff VA Medical Center. Completed 11+ projects, including replacements of mechanical and fire sprinkler systems, multiple clinical/patient treatment areas, and various office spaces.
Cortner Architectural Company completed 16 projects while serving as Campus Architect for Lakeland Village (LV) and Eastern State Hospital (ESH) during the 2015-2017 biennium. Projects included Predesigns, Electrical and Fire Alarm Infrastructure Upgrades, Elevator Assessments and Repairs, and Roofing projects.
Centered in downtown Moses Lake, the building was designed to serve as a transportation hub for bus service (local and intercity), car pools, taxis, pedestrians, and bicyclists, including a park and ride lot. The first floor contains a waiting area for transit patrons and a multifunctional community room, providing a gathering space available for public use. Office space is provided on the second floor for GTA employees, keeping them connected to transit activities and providing GTA a strong presence in the city.
New 51,000 Sq Ft airfield maintenance support and storage building for mutli-tasking snow removal vehicles. Ribbon-roof design consists of crimped steel deck over open web steel joists, supported by a rigid steel frame, with a pitch sloped at 1:12. Materials selected for low-maintenance and durability. Certified LEED Gold.
Photo by Explosive Illusions, Shawn Toner©
Renovation of a 1940's era hangar, including complete structural, mechanical, plumbing, electrical and ADA upgrades, on a tightly accelerated schedule.
Improvements included selective demolition of an approximately 500 Sq Ft administrative wing, which was replaced with a 1,600 Sq Ft single-story business office addition and a separate 1,800 Sq Ft equipment bay to house highway snow removal vehicles.
Building Envelope Upgrades